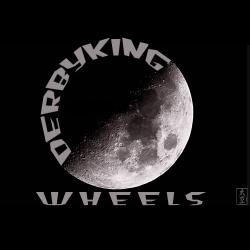 "I want a plain simple bike that's really easy to pedal, not bumpy, fits me good, and doesn't break down."

"Oh. And I don't want something that costs a fortune."

After we heard this about 86 times from our customers, we decided it was time to take control of the entire process of producing a bicycle, Design, Production, Equipping, and Fitting. Note that the last step is one not included in the agenda of most producers, and is a variable that has long been dismissed in favor of fashion and real or perceived economic necessity.

DESIGN
Design-wise most of our bikes are copies of the excellent mountain bike thought up by Joe Murray twenty years ago. We chose this design because a bike with that geometry handles good and will fit riders of varying proportions better than any other we have tried.

PRODUCTION

More important, we chose a 'Magic Hands Welder' to do the work. A person with the skills of a Master Welder will make a bike with a quantum difference in pedaling effort, regardless of the design, regardless of whether it is a road or a mountain bike. THERE IS NO INHERENT PEDALING EFFORT DIFFERENCE BETWEEN THE TWO. We have shocked and amazed many shoppers by having them test three bikes in the same gear: a VeloCity road bike, a VeloCity mountain bike with skinny tires and a VeloCity mountain with fat tires. Once moving, there is no perceptible pedalling effort difference between the three. Getting up to speed the skinny-tired mountain bike accelerated the quickest, the road bike was next, and the bike with fat tires was the slowest to get up to a given speed. In other words, the bike whose wheels had the smaller moment arm and mass accelerated the best, holding the frame constant(since all three were welded by the same person). All testors who followed our test protocol also agreed that these differences made by the tires and wheels in accereration were small when compared with the large difference in the amount of work needed to maintain a steady speed between the hand-welded bike (a VeloCity in this case) and all non-hand-welded bikes of any type. Investing in a bike with a better production frame than the one you are using will mean you will be riding an easier to pedal bike - but there is a LARGE pedaling effort difference between the best production frame and a hand-welded frame. In our visual culture this is not generally realized, as the production bike will look vitrually identical to the handmade one; unless one has felt the difference, there is no way know it exists(in an industry that refuses to adopt a performance standard). Whether one uses last year's revolutionary devlopment in steel and titainium alloys, or next year's the factor that will determine the quality of ride of the bicycle (energy efficiency,road shock,solidity) is the welding quality of the frame. Time and testing have shown that the steel or titainium used in a frame will not have any predictive value in determining its ride quality.

EQUIPPING

We keep our costs down by our template fitting system and by very careful shopping for components; a VeloCity handmade bike will usually cost less than half of any bike with the same pedaling effort. With the exception of tire quality(part of that last 14% of energy losss), spending more on components will not make a bike go faster or easier, investing more in frame quality(the first 86% of energy loss) will do both!

FITTING

With a VeloCity bike we usually call this

CUSTOM FITTING

Doing a proper Custom Fit requires following the two 'C's of custom fitting: Comfort and Coupling. The closer the proportions of the frame match those of the rider, the more likely their 'space of comfort' will lie within the fit adjustment range or the frame. The sloping top tube on the VeloCity frames is one reason this frame has a very wide fit adjustment range. The use of untrimmed fork steering tubes extends this range even more. Coupling is making sure all of the rider's energy can get into the bike (a fitting process) in a useful form (choosing the correct crank length, sprocket sizes, and pedals). Unfortunately for the success of cyclists, we estimate over 86% of all riders at all levels could show a 5 to 35% energy output increase, with their same equipment and condition, if they were properly coupled to the bike. On-site interviews and fit checks with customers who purchased a VeloCity Custom Bike from this site have us convinced the Derby King Wheels Photo/email Custom Fitting process is highly accurate and will give a fit improvement to the rider.
Please also note that because of the now almost universal use of threadless headsets and forks that most bikes(including ours) can be equipped with any kind of handlebar arrangement(dropped bars on a mountain bike, flat bars on a road bike, etc.) VeloCity bikes are a little more versitle than most as they will take either 'V' or cantilever brakes without modifications or add-ons.

IT SHOULD BE COMMON KNOWLEDGE, BUT

For those of you who are interested, here is some information about bikes that shound be, but isn't, common knowledge:

Over eighty six percent of the energy loss on any bicycle is from the flexing of the frame ("the overall loss of the pedaler's energy due to friction in the bearings is found to be less than 1 percent. Chain losses would add 1.5-5 percent". Source: 'Bicycling Science' 2nd ed.). This energy loss depends on the properties on the material used.

In the case of metals, it depends on the properties of them AFTER WELDING. No matter how good or how high tech the metal is, if it isn't welded good, it won't ride good. Two bikes made from the same tubing with the same design will steer the same, but one could be bumpy and hard to pedal and the other one could absorb bumps and be easy to pedal.
The difference is in the weld quality and resultant change in the properties of the metal.

We are mostly talking about steel here; all of our bikes are steel. Here's why:

Some steel bikes ride better that titainium ones, and vice versa; however the special facilities required for the cutting and welding of titainium ($$$$), its price ($$), and its availability (USAF) mean that we cannot use it and meet our goal of a killer handwelded steel bike ($) for the price of an aluminum production bike($).
Steel is a springy metal and aluminum is not (well, how many aluminum springs have you seen?). Aluminum bikes transmit high frequency vibrations (as do, to a lessor extent, poorly welded steel ones) while steel bikes absorb vibrations. The introduction of TIG (Tungsten Inert Gas) welding allowed a reduction of production costs for bikes, however the major impact was that use of an inert gas for welding allowed aluminum to be used for bike frames, despite its obvious deficiencies: transmission of vibration and a failure mode known as 'sudden and catastrophic.'

Economics rules the world. Bike tubing is cheap. Welders are expensive. Aluminum is weak, so a thicker tube must be used. A thicker tube allows the use of a less skilled welder (which is harder to make, a pancake or a crepe?), and this is where the very major cost savings occur.

Also, since thicker tubes are used in aluminum bikes, especially mountain bikes, the weight savings are not as much as one might think. This situation was put into very clear focus a few years ago when one of the bike companies we dealt with offered steel and aluminum mountain bikes at the same price. Our staff, and all customers who made a comparison, found that the steel bikes were a little easier to pedal and less bumpy, even if the steel bikes had no shock (this is because a shock is a low frequency filter but a high frequency pass,ie it does not do away with the undesirable properties of aluminum, just the gross features of the road surface-the 'jittery', high frequency bumps pass thtough the fork and frame to your hands).

Oh. The steel bikes averaged about a half pound lighter than the aluminum ones. Modern marketing techniques can do amazing things with people's beliefs.