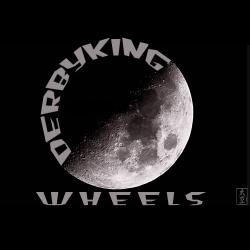 STORE CLOSED
DUE TO DEATH
OF PROPRIETOR
JT 7492 Rough Stuff Model + JT7852 Rann Trailor
Not for sale
Ask Derby about this item.
The 'Rough Stuff' model was first produced by the Brothers in 1953, and was made from the 1-1 drawings a Nature Photographer drafted and gave to them. Camera equipment was heavy; and he wanted to take it back country in the "roof stoof" It has the major design elements of a modern mountain bike: small diameter wheels, a high bottom bracket, a sloping top tube, cantilever brakes. and triple chainrings. Derby ordered one in 1973 but as it took almost 5 years to arrive, it saw only a year's use before being replaced by a mountain bike.
It is equipped with a TA Triple crank with Lyotard Pedals and doubled Christophe clips; Mafac Brakes and Levers, Campy Bar-end shifters, Campy NR Rear Gear, Suntour Surpurbe Front Changer, Wheels by Derby King with 650B Super Champion Rims. The front wheel has a Campy Track hub drilled to 48* and the rear wheel sports 36 spokes of 10 and 11 gauge. Frame size is 22.5" and the top tube is 21" long.
The Trailor has been little used and has seen a little abuse;
it is missing a nut and the dropouts were stressed from overloading.
| | |
| --- | --- |
| | click on a picture to enlarge |