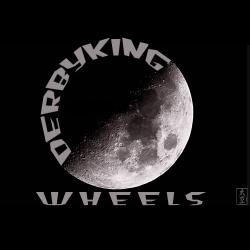 STORE CLOSED
DUE TO DEATH
OF PROPRIETOR
JT 7355 Marathon Model Cyclocross Bike Silver
Not for sale
Ask Derby about this item.
The two best things you could say about this bike are that it is very easy to pedal and absorbs road shock well, properties that depend on Norman Taylor's 'magic hands' welding.
Light and strong lugless construction and a 40 1/2" wheelbase make the frame ideal for cyclocross. The Brothers called it a 22 1/2" frame, which was a center-to-top measurement; the C-C measurment is 21 5/16". The component set is typical of what was found on the best cross bikes of the time, although the modifications shown here were usually only seen at races and on the bikes of some of the regulars. The Binda toe straps have been cut and riveted to the double-sided Lyotard pedals to allow the mud to fall through the cage; and a modified Simplex derailleur is used prevent the chain from bouncing off during dismounts; it is mounted upside down and backwards and keeps the chain trapped between the guards of the TA Cyclocross chainring. The Mafac Promotion brake levers are reversed cross style, and different colors were used on each side as a reminder that the right lever controls the front brake. The bikes' previous owner, D.S., went on a three year European tour before entering any races, and never rode it when he returned, so it is almost new. The wheels were built by Derby with Sanshin Gyromaster sealed bearing hubs and Martano rims.
| | |
| --- | --- |
| | click on a picture to enlarge |