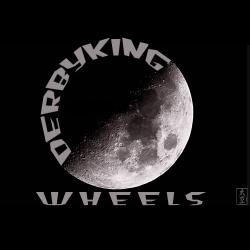 STORE CLOSED
DUE TO DEATH
OF PROPRIETOR
Jack Taylor Clubman Model No. 5881 22"

Would you like a rather plain (by today's measure), simple bike that is very easy to pedal.

This frame spent its first few years(1968-73) in a display box the Brothers built; it was taken to the York Rallye annually to provide an example of their work. Imported and assembled by Derby after his 1973 visit to the Brothers, it has seen only a few miles as its owner, Bookkeeper Bob, was spending all his time with the Ladies instead of his bike.

The cycle is equipped with Mafac Racer brakes and White Mafac Promotion levers on a scratched TTT bar with an old style, custom drilled, TTT Record stem. The White Simplex shift levers and derailleurs push the Sedis chain across TA Criterium chainrings of 43 and 50 teeth, and a Regina Oro freewheel with 15-16-17-18-20 tooth cogs. The White Concor saddle is affixed to the plain alloy pillar with an Ideale clamp. The Atom pedals come with medium size Christophe clips and white Forte straps. The wheels were made by Derby from Campagnolo Nuovo Tipo hubs, Super Champion Model 58 rims and Robergel spokes in a cross four pattern, 35+ years ago. The BB cups were made by TDC of England.
The headset is a Stronglight P-3. The front bag support rack is by TA.

Note: The old Michelin 50 tires in the photo have been replaced by a pair of NOS Vittoria Demicross tires; these rare tires from the '70's have a casing very similar to the cotton side wall of the tubular Vittoria 'Giro d' Italia' and the high thread count of these casings resulted in a tire that was both fast and very strong.


The components are all greatly overshadowed by the quality of ride due to Norman Taylor's magic hands, and the beautiful 2 colour finish and contrasting red box lining and yellow-edged lugs. The spirit-fixing transfers never received the usual clear coat and gave up the ghost after 40+ years; they are now a curling, peeling shambles.

| | |
| --- | --- |
| | click on a picture to enlarge |