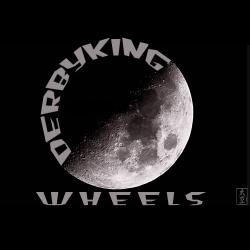 STORE CLOSED
DUE TO DEATH
OF PROPRIETOR
About Derby King
Write to Derby about this topic by:
Email
Secure form
Derby King built his first professional wheel in 1971, a few days after opening his first Bike shop as a way avoiding the type of employment that was typical for someone with degrees in Mathematics and Economics. Of course, he was not Derby King then, just a guy in a hole-in-the-wall bike shop with some handmade bikes no one had heard of. The Name was later bestowed on him in absentia, and with good reason, by one famed "GF" holding court and dispensing advice in an ether-net chat-room about "his" invention (the mountain bike). Derby learned of this new name a couple of years after that but did not come to accept it as his for almost a score of years later.

Wheels produced in those first years were used on machines for HPV speed record attempts, in local cyclo-cross races, as well as in the US Nationals and the World Championships. Some were used in criterium, road and track races, and in hill climbs. Others were used on tandems, touring bikes, for commuting, centuries, and for ten speeding on the fire roads and single tracks of Mt. Tamalpais.

During this time a number of experimental wheels were built with the intent of finding the ways to build the strongest wheels. Many traditional yet foundation-less myths of what makes a good wheel were abandoned and replaced with a new paradigm. Thus when "The Spoking Word" by Leonard Goldberg was published in the late 70's, it was a glorious bursting sunrise on the shadowed landscape of empirical conclusions reached by Derby, giving them an independent verification and an understandable mathematical justification. Goldberg, an Electrical Engineer who lived in Washington and worked for Boeing when he wrote the book, and who later opened his own bike shop, expanded Derby's ideas to include new spoking patterns and provided methods of quantifying and easily calculating the changing tensions on all spoked bicycle wheels.

The last quarter century has given the opportunity for thousands of wheels of practice, and refinement of Derby's basic wheel-building tenets. You now have the opportunity to purchase a pair of these fine wheels, designed around evolved principles and built to exacting specifications by Derby's own capable and experienced hands.