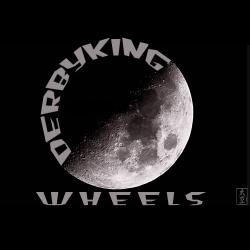 STORE CLOSED
DUE TO DEATH
OF PROPRIETOR
Vintage Martano rims
$243.43
Ask Derby about this item.
These Italian rims from the early 1970's were possibly the best tubular rims available at the time. They were seldom seen in the U.S. except as original equipment on Masi bicycles. They were also imported briefly by the John W. Murphy Co. around 1973. Rim washers must be used under the spoke nipples. The use of the washers (a necessity) may cause extreme frustration to the uninitiated. The rims are what was later called 'hard anno', however this oxidation process made them suseptible to cracking at the spoke holes if the spokes are too tight. The rims built to 'race strength' would take a lot of abuse for 12-36 months and then cracks would appear around the spoke holes, whether they had sat around or had been raced every week. For show bikes, a looser build will mean they last longer. The anodizing process makes them very strong for the weight, and there is very little hop at the join. Three models were imported; the sides of the 'Corsa' (360g) and the 'Leggero' (310g) were fluted for better heat dissapation, the 'Super Leggero' (280g) had plain sides. Available drillings at this time are 40*, 36* and 28*; price is $243.43 for each rim.
Send us a picture of your Masi and your Campy hubs (or purchase a used or NOS set from us) and we'll build new Original Equipment wheels for you. The most exact match between the trade-off choices of strength or longevity can be achieved by the use of DT spokes. For those riders who want the closest to an OEM pair of wheels, we will use Stella spokes (while they last, and for those hubs whose flange size permits their use).

Derby has seen many of these rims made into lessor wheels by 'my friend', 'that good bike shop', 'The Monolith Corp'. and 'Mr. Clever, instant expert', wheels that 'just need a little tightening' or "just have a little flat spot". Without putting a judgement on the esteemed reader, BUT to avoid wasting a rare thing, these rims will be sold as complete wheels. If you want "just the rims" without presenting a really good story and an amazing, lavish, generous offer your mail will be 86 to the block sender list.
| | |
| --- | --- |
| | click on a picture to enlarge |