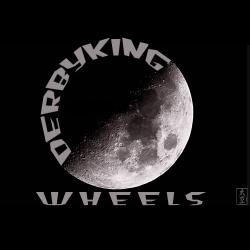 STORE CLOSED
DUE TO DEATH
OF PROPRIETOR
1972 FUJI S10S custom sleeper_ looks awful tastes ok
$208.60
Ask Derby about this item.

The chrome on the front fork is peeling badly. The paint job is failing and exhibits rust colored spots on the black finish. The outside of the front hub shell has a fur of corrosion. This bike has spent time on the coast. We tried to leave the rusty spoke protector in place to enhance this look of decay, but it was floppy and made noise. We will include it in the purchase, along with what we replaced, though: bars, brake levers, bottom bracket cups and axle, the rear hub axle, a frozen six speed freewheel, and the pedals.

This Vintage 1972 FUJI was the first production bike to come with sealed-bearing hubs, being equipped with the renown Sanshin Gyromaster Hubset. They run smooth and without drag now; they needed adjustment. The 1972 FUJI S10S was also the first production bike to come with a six speed freewheel as part of the OEM Spec. We changed this one into a close-ratio, flat terrain townie with new flat bars and brake levers and a city-wise five speed. We installed a new Fuji chainguard, taken off a Fuji Cambridge III. We installed a couple of working, but mis-matched pedals. The brake and shift wires have been changed and the pivot points of the brakes lubed. We installed new brake pads and adjusted the brakes. We removed the worn out inner chain ring, installed a new set of the original Fuji-labeled bottom bracket cups, and a new, shorter bottom bracket axle(to keep a good chain-line with the single front sprocket). The drive train also has a new chain and new Suntour freewheel cogs, chosen in size to match the little-used chain-wheel and give five good around-town gears... Expressed in terms of gear inches, the ratios are as follows: 83, 73, 66, 61, 54

The NOS Suntour ratcheting friction shift lever has been dis-assembeled, cleaned, and greased and works smoothly without sticking..

The 21" frame has a stand-over height of 31 inches.
Our Milk scale shows this bike weighs 27.7 pounds, including the custom leather and stitching on the saddle and the new Oury handlebar grips.

| | |
| --- | --- |
| | click on a picture to enlarge |