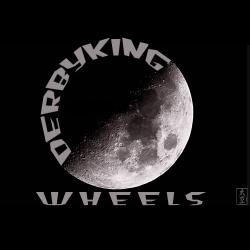 STORE CLOSED
DUE TO DEATH
OF PROPRIETOR
HANDBUILT SINGLE SPEED WHEEL PAUL/WTB
$258.60
Ask Derby about this item.
The Paul Word hub allows a stronger wheel to be made due to the improvement in the 'bracing angle', the angle of the spokes from one side relative to those on the other side. Putting the hub flanges farther apart, as Paul did, increases the bracing angle and does more for the strength of a wheel than diminishing the dish. Internal bracing on the W.T.B. Laser Beam rim make it stronger while keeping the weight down. Also noteworthy is that the average tension on the static spokes, about 304 Lbf (pounds of force) is 40 pounds MORE than the average tension on the pulling spokes. So, besides the fact that these spokes are exceptionally tight, under a torque load (pedalling) the tensions of pulling and static spokes are converging. We call this TLTC or Torque Load Tension Convergance. In all 'normal' wheels a torque load will cause the tensions of pulling and static spokes to diverge, as the pulling spokes in all wheels get tighter from pedaling while the static ones all get looser,
the root cause of rear wheel spoke failures.

US Shipping: west of Mississippi River,$8.60
East of the River,$12.86
Please note shipping charges must be added
to the price shown below.
| | |
| --- | --- |
| | click on a picture to enlarge |