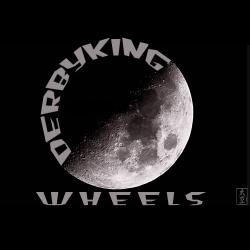 STORE CLOSED
DUE TO DEATH
OF PROPRIETOR
BI-SPOKE TLTC 24" CRUISER WHEEL W/ NEXUS HUB
Not for sale
Ask Derby about this item.
This extra strong wheel was built around a Shimano Nexus seven speed roller-brake hub using DT 2.0mm spokes and an Alex DX32 24" rim. The drive-side spokes are all static, and have an average tension of 225LBf (1000N). The non-drive spokes are all pulling and have an average tension of 210LBf (936N). The torque induced load caused by pedaling will cause the tighter drive-side static spokes to get looser and the looser non-drive pulling spokes to get tighter, the condition of Torque Load Tension Convergence or TLTC.
Although this wheel has been sold and is doing duty on the streets of lower Manhattan, Derby can build another one for you using a Shimano Nexus or Sturmey-Archer rear hub, or a Shimano Dyno front hub.